Apparently I like link-ups. Anyone else? No? So it is just me then. Well okay. Moving on.
I love link-ups. Maybe it is because I am just getting my little blogger feet wet, maybe it is because I can't ever think of anything to write. Who knows. Either way, I love link ups, and that means I have obviously found another to participate in. Give it up for FiveOnFriday!!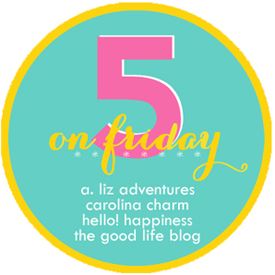 1.
Target's Mix and Match Swimsuits
: Those things are probably going to be the death of
me
my bank account. After 5 years of not purchasing a bikini, and 4 years of never wearing one, I have purchased like 8 bikini's! Crazy right? Yeah basically. My
fitness journey
has a lot to do with me being able to wear a bikini now. Sure I still have a long way to go, but at least I don't feel like I have to go on my cruise and be in jeans and a long sleeve shirt at all times now.
2. Cruise Countdowns. I am probably getting on everyone's nerves with my excessive talk about cruises, but face it folks, I am 80 days away from a week long vacation that is long overdue. C and I are finally doing something BIG for our anniversary, and I couldn't be happier. Our vacations have consisted of trips with family except a week in Gatlinburg for our honeymoon which we both spent a good amount of time on the phone with family and friends, a weekend for C's birthday in Gatlinburg last year, and then a short last minute weekend cruise this past January. Since June 2009, that has been it! So we are well beyond excited for this cruise! So I will continue to countdown. Sorry to all my
Instagram friends
.
3. Fall! Okay guys,
August = Autumn right??
All I can think about right now is pumpkins, spiced apple cider, leaves changing colors, bonfires, hot chocolate and football!! It is that time of year and I am IN LOVE! Can we just take a minute to take in the need for a light jacket in the mornings now?? This is my time of year! I am already shopping for fall clothes!
4. Buffalo Wild Wings...Yeah, Wednesday for dinner we had BWW and beer. Good dinner? I think so. It has been quite a while since we had wings and beer, and honestly I enjoyed every.last.wing. Good news is that I didn't screw up my fitness journey with one bad meal.
5. Laundry. I have spent the past week doing every single piece of laundry we have in the house that needed to be washed. I am doing everything I can to ensure that there is no cleaning done this weekend while we celebrate C's birthday! And that means that my king size bed is covered in stacks and stacks of clothes that need to be put up. Looks like I will be doing that tonight, or else I might have to sleep on the floor.
NOW FOR THE GOOD STUFF!!
BIRTHDAY WEEKEND!
C turns 24 on Saturday, so what better thing to do than to stretch the entire weekend out to celebrate! Friday, Saturday, and Sunday full of Birthday festivities is what I am talking about!! I am already planning on making him an extra special breakfast complete with Belguim waffles, and homemade syrup and maybe homemade chocolate syrup for chocolate milk if I can find my recipe. Then if it isn't raining, we will probably head out on the jet skis for several hours, and if I plan it right, we will take a small picnic to eat out on the lake. We did this several times last year. :) For dinner, it is steak and potatoes! C loves steak and well, I don't so we don't eat it very often. I planned on making cupcakes, but C asked for brownies instead. Since the plan was to go camping, I plan on setting the tent up outside if it isn't raining, and if it is, I am going to set it up in the living room. :) Sunday will be filled with going to church, maybe a picnic at Riverpark, jet skis if we have time, and then maybe taking Chaco to the dog park. I'm looking forward to posting a weekend recap of the birthday festivities!